Men's Clothing

Carter & Jasper is a business that is able to make items to your specs. Some items are in stock. If you find something in these pages, you may want to check for availability. We also make a large number of different items that may not be listed (yet), so feel free to inquire. These include frock coats, paletots, "livery jackets", various vest patterns, etc..
We strive to give you the best customer service available and find it necessary to make changes from time to time to assure we are serving you to the best of our ability.
Jackets, Shirts & Vests

Sack Coats
White Linen Sack Coat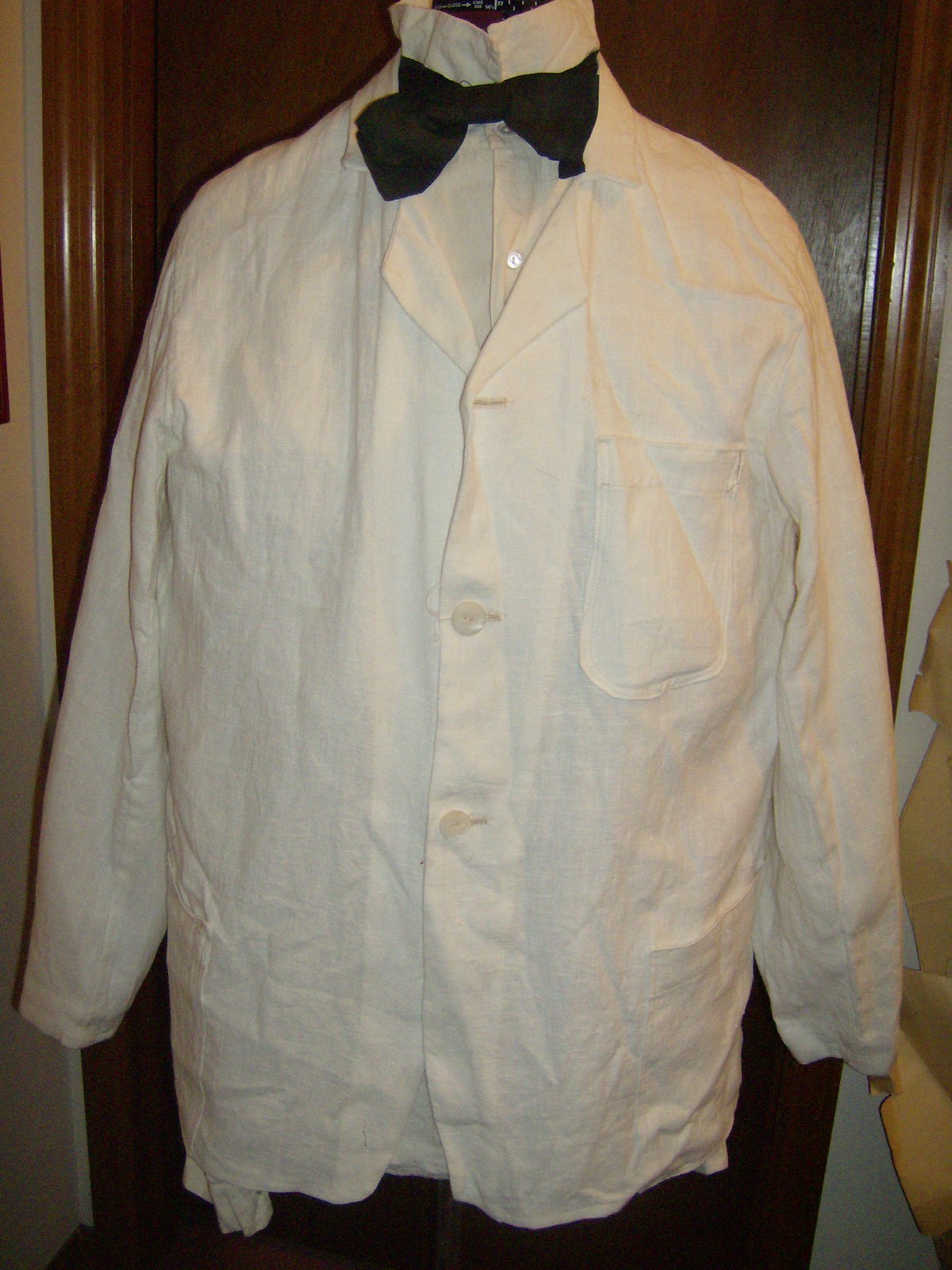 White linen sack coat, large mother-of-pearl buttons. Three external patch pockets. Long seams are all hand felled.Size 40.
$200.00
Vests
Military Vest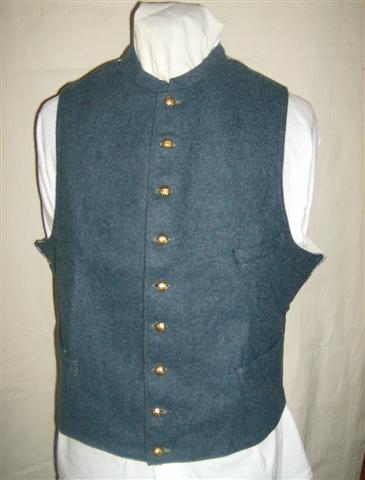 Blue Grey kersey, military cut with US general service buttons. Size 48.
$160.00
Civilian Vest
Single breasted shawl collar vest. These can be made of various fabrics: wool, cordouroy, jean-cloth, linen or cotton. Sizes 38- 48.
$180.00
Overshirts
Wool overshirts. Great item for when you need to do some work on the farm or in the shop, use for a militia "uniform" or just need some extra warmth. Made of grey wool flannel with glass button closures. One is all grey and the other has red wool collat and cuffs. Both are a size 42.
$110.00
Trousers & Overalls

Broadfall Trousers
These are common broadfall trousers, as seen in tailoring books during the mid-19th century. Bone button closures and top entry pockets under the "flap".
Brown home-dyed wool jean. Machine topstitched, hand done buttonholes. Size 40x32.
$185.00
Red wool satinette. Hand topstitched and buttonholes. Size 36x32.
$225.00
Civilian Trousers
Tan cotton jean trousers. These are medium weight with slanted top entrance pockets. Bone buttons and belt back adjustor. These are un-hemmed with a length of 34" so you can do the finishing work or we can finish them for $20. Size 40
$140.00
Green cotton jean trousers. These are medium weight with slanted top entrance pockets. Bone buttons and belt back adjustor. These are un-hemmed with a length of 34" so you can do the finishing work or we can finish them for $20. Sizes 36 and 40
$140.00
Military-style Trousers
Grey wool jean trousers. These are medium weight with side seam pockets. Bone buttons and belt back adjustor. There is a good deal of hand topstitching. Size 34W x 32L
$185.00